A Business Management Software for all growing companies
ERPNext is The Best Open Source Cloud ERP (Enterprise Resource Planning) Software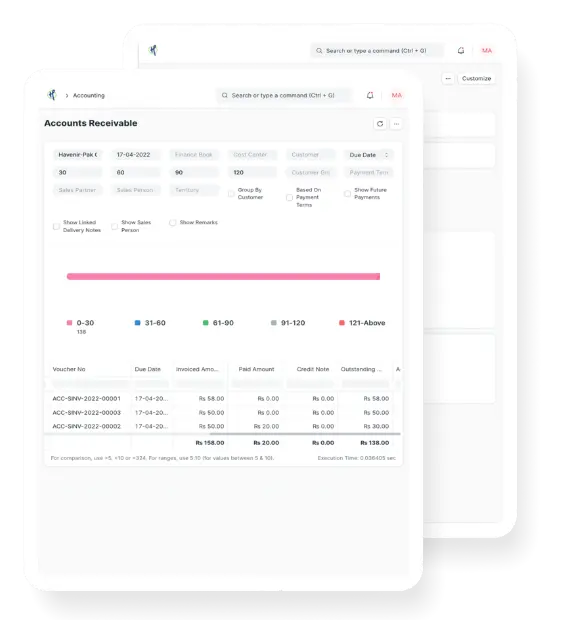 ERPNext: Empower Your Business with a Powerful and Versatile ERP Solution
Streamline Your Operations, Boost Efficiency, and Drive Growth
Efficient Process Management
ERPNext helps you streamline your operations by automating and integrating key business processes. From procurement and inventory management to sales and customer relationship management, ERPNext provides a centralized platform to efficiently manage all aspects of your business.
Real-Time Insights
Gain valuable insights into your business with ERPNext's powerful reporting and analytics capabilities. Make data-driven decisions, identify trends, and monitor key performance indicators to drive growth and stay ahead of the competition.
Enhanced Collaboration
ERPNext fosters collaboration by providing a shared platform for employees across different departments. With centralized data and seamless communication, teams can collaborate more effectively, improving productivity and reducing silos.
Improved Customer Experience
Deliver exceptional customer experiences with ERPNext's integrated CRM module. Manage customer interactions, track sales leads, and provide timely support, ensuring customer satisfaction and loyalty.
Scalability and Flexibility
ERPNext grows with your business. Whether you're a small startup or a large enterprise, ERPNext offers the scalability and flexibility to adapt to your evolving needs. Add new modules, customize workflows, and configure settings to match your unique requirements.
Key Features of ERPNext
Unlock the Full Potential of your Business with These Essential Features
Finance and Accounting
Manage your finances effectively with ERPNext's comprehensive accounting module. Track expenses, generate financial reports, and streamline your financial operations.
Inventory Management
Take control of your inventory with ERPNext's inventory management capabilities. Track stock levels, manage warehouses, and optimize supply chain processes.
Sales and CRM
Boost sales performance and customer satisfaction with ERPNext's sales and CRM features. Track leads, manage opportunities, and automate the sales process.
Procurement and Purchasing
Streamline your procurement process with ERPNext. From vendor management to purchase orders and approvals, ERPNext simplifies and automates your procurement workflow.
Manufacturing
Manage your manufacturing operations efficiently with ERPNext's manufacturing module. Plan production schedules, track work orders, and optimize resource allocation.
Project Management
Keep your projects on track with ERPNext's project management capabilities. Assign tasks, monitor progress, and collaborate with team members for successful project delivery.
Unleash the Power of ERPNext with Tailored Solutions
Are you searching for an ERP solution that not only meets your business needs but also takes into account your unique regional and industry-specific requirements? Look no further! As official certified partners of ERPNext in Pakistan and Germany, Havenir Solutions is your trusted partner for delivering cutting-edge, customized ERP solutions.
Why Choose Havenir Solutions?
Unrivaled Expertise: With years of experience and in-depth knowledge of ERPNext, our team of experts at Havenir Solutions excels in developing regional and industry-specific solutions. We understand the nuances and complexities of different markets and industries, allowing us to create tailored solutions that cater to your precise needs.

Customized for You: We believe in the power of customization. Our solutions go beyond the standard ERP capabilities, integrating seamlessly with ERPNext to provide a comprehensive solution that aligns perfectly with your business processes. Say goodbye to generic solutions and embrace a system designed specifically for your business.

Efficiency and Streamlining: Our goal is to help you streamline your operations, improve efficiency, and boost productivity. By leveraging the power of ERPNext and tailoring it to your specific requirements, we empower you to optimize your processes, reduce manual work, and achieve greater operational excellence.

Compliance and Regulations: We understand the importance of staying compliant with regional regulations and industry standards. Our customized solutions ensure that your ERP system adheres to the specific compliance requirements of your region and industry, giving you peace of mind and minimizing the risk of non-compliance.

End-to-End Services: From consultation and solution design to implementation, customization, training, and ongoing support, we provide comprehensive end-to-end services at Havenir Solutions to ensure a smooth and successful ERP implementation journey. Our dedicated team is committed to your success every step of the way.
Unlock Your Business Potential with Havenir Solutions
At Havenir Solutions, we are passionate about helping businesses like yours harness the full potential of ERPNext. Our commitment to delivering exceptional services, combined with our expertise in creating tailored solutions, sets us apart as your ideal ERP partner.
Discover how our regional and industry-specific solutions, built on top of ERPNext, can transform your business operations, streamline your processes, and unlock new opportunities for growth. Contact us today for a consultation and take the first step towards a customized ERP solution that caters to your unique needs.
Empower your business with tailored ERP solutions. Contact Havenir Solutions today.
Are you looking for a certified ERPNext partner?
Let's Start a Conversation